A message from the Professor
A message from the Professor and his Profile
Research Principle
received training in human and experimental carcinogenesis in Nagoya City University in the Department of Pathology under the supervision of Dr. Nobuyuki Ito. After I finished my Ph.D. work, I had the opportunity to work with Prof. Emmanuel Farber at the Department of Pathology, University of Toronto and then with Prof. Peter Bannasch at the German Cancer Research Center, Heidelberg. From these and other experiences, I adopt the following principles:
Experience and Current Research
In the National Cancer Center Research Institute, I worked on cancer prevention studies, mainly bovine lactoferrin, a cow milk component having immune-enhancing activity. Based on results with animal studies, we conducted a double blind clinical study in collaboration with the National Cancer Center Hospital and found that orally administered bovine lactoferrin given to 104 patients was effective in causing regression of colorectal polyps (Cancer Prevention Research: 2, 2009). This was the first report of a cancer preventive agent effective in humans in Japan.
After I moved to the Department of Molecular Toxicology, Nagoya City University Graduate School of Medical Sciences, the first toxicology department in a medical school in Japan, I started a project evaluating the cancer risk of petroleum associated compounds, supported by the Ministry of Economy, Technology and Industry. Later, I extended this project to include the development of assay methods to determine the cancer risk of nanomaterials, such as titanium dioxide, zinc oxide, fullerens, carbon nanotubes, supported by the Ministry of Health, Labour and Welfare. We are now focusing on developing combined in vitro-in vivo assay models and mechanism analysis of toxic and carcinogenic effects of nanomaterials, concentrating on macrophage associated cytokines.
Public contribution
WHO/IARC: Working Group Member of Monograph series on the Evaluation of Carcinogenic Risks to Humans, IARC Handbook of Cancer Prevention, IARC Scientific Series, Monograph Advisory Group member, and recently Advisory Board Member for the Memorial Issue of Monograph Volume 100.
Government:

Expert Group Member of the pesticide subcommittee of the Food Safety Commission of the Cabinet Office, Japan (from the inauguration in 2003)

Board

Board of Pathology (Japanee Society of Pathology)
Toxicologic Pathologist (Japanese Society of Toxicologic Pathology)
Toxicologist (Japanese Society of Toxicology)
Academic Societies
American Association for Cancer Research
Japanese Society for Cancer Research
Japanese Society of Toxicologic Pathology
Japanese Society of Toxicology
Japanese Association for Lactoferrin (Chairpeson of the Board of Trustees)
Main work
Nanomaterial toxicology, focused on carcinogenesis;
Cancer prevention and treatment by lactofrrin;
Establishment of

in vivo

short-term screening model for environmental carcinogens using sensitive transgenic rats;
Animal model of human cancer, currently pancreas cancer.
Toxicology Research in Tsuda Laboratory
According to Doll & Peto and the National Cancer Institute, smoking causes more than 30% of all cancer deaths in the U.S. and many other countries. Furthermore, the food that we eat is responsible for another 30% of cancer deaths. Other primary causes of cancer include exposure to chemical carcinogens in the workplace, diminished physical exercise (sedentary work), infection by microorganisms (viruses, Helicobacter pylori, parasites), alcohol, environmental pollutants, ionizing radiation, and medical treatment. To assure a "safe, secure and reliable" environment, three elements should work together in a balanced manner: risk assessment by academic/research institutes, risk management by the Government, and risk communication by the Government and mass media sectors. None of the 3 elements overwhelms the others. For this purpose, a Comprehensive Management Committee composed by members of research institutes, regulatory agencies, industries and consumers should be established.
Our laboratory is working on the establishment of a method to evaluate the carcinogenic effect of environmental chemicals; recently we have become more focused on engineered nanomaterials which are being rapidly introduced into the market without hazard risk evaluation.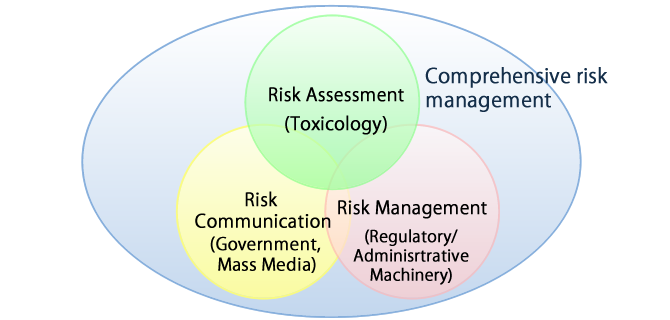 Biography・Award
Biography
1975

Ph.D. Department of Pathology, Nagoya City University Medical School, under the supervision of Prof. Nobuyuki Ito

1977-1979

Postdoctoral Fellow, Department of Pathology, University of Toronto, Canada(Prof. Emmanuel Farber)

1983-1988

Associate Professor Department of Pathology, Nagoya City University Medical School

1984

Department of Cellular Pathology, German Cancer Research Center (Prof. Peter Bannasch)

1989-1993

Associate Professor Department of Pathology, School of Medicine, Fujita Health University

1993-2003

Chief, Experimental Pathology and Chemotherapy Division, National Cancer Center Research Institute, Japan

2003-2008

Professor, Department of Molecular Toxicology, Nagoya City University Graduate School of Medical Sciences

2009−

Professor, Nanomaterial Toxicology Project, Nagoya City University
Award
1997

Tamiya Memorial Award
(Japanese Foundation for Promotion of Cancer Research)

2009

Minister Award (Minister of Health Labour and Welfare)

2010

Princess Takamatsu Cancer Research Fund Prize
(Kras transgenic rat pancreas ductal cancer model)