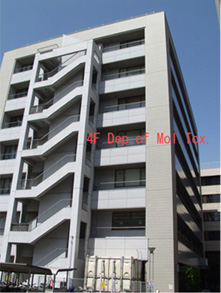 In the 21st century our common responsibility as scientists working in toxicological pathology is to maintain and support the world ecology, contributing to provision of a safe biological environment. For this purpose, it is essential that assessment of toxicity of environmental chemicals is conducted on a sound scientific basis. Of particular importance in this regard is the ability of chemical compounds to cause cancer. The prevailing approach to assessment of carcinogenicity of pharmaceuticals and agricultural agents like pesticides has been to use the mouse or rat with long-term application, generally for two years, of very high doses of potential carcinogen. However, considering actual exposure levels in human beings, the data obtained in this way with extreme doses can only be of limited assistance in determining real risk under normal conditions. Furthermore, the necessity for major resources in terms of facilities and staff for performing such long-term in vivo experiments is restrictive.
One way in which these problems can be overcome is to focus on preneoplastic lesions with appropriate animal models, and furthermore to take advantage of advances in molecular biology to facilitate short-term detection of carcinogenic or other toxic potential. DNA chips are now readily available and together with proteomics have great potential to revolutionize risk assessment. It also needs to be emphasized that there is now a greater awareness that effects in very low dose ranges may not reflect the results of administration at high dose so that efficient means to determine possible thresholds and curves for dose dependence are essential.
The main focus of our research effort in the Department of Molecular Toxicology, in the Graduate School of Medicine at Nagoya City University, is on these current issues of toxicology, responding to the demands for effective means to assess carcinogenic risk and underlying mechanisms. The first and only such facility within a Medical School in Japan, our Department is engaged in development and establishment of novel evidence-based methods for detecting carcinogenicity of environmental compounds, concentrating on the most recent medical and molecular biological tools available. Molecular biology is moving from the elucidation of biological mechanisms to the mediation of biological effects. We are providing an environment for effective training of research scientists from other institutions wishing to work alongside our permanent staff.