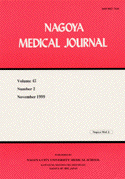 INDEX
Key words

Protein Z, Reactive Thrombocytosis, Primary Thrombocytosis, Idiopathic Thrombocytopenic Purpura


Title

CIRCULATING PROTEIN-Z IN REACTIVE VERSUS PRIMARY THROMBOCYTOSIS AND IN ITP


Authors

Veli OBANKARA Duzgun OZATLI Ibrahim C. HAZNEDAROGLU Yahya BUYUKASIL Ali KOSAR Osman I. OZCEBE Semra DUNDAR Serafettin KIRAZLI


Institution

Hacettepe University Medical School, Department of Hematology, Ankara,Turkey. (Address of Correspondence:Dr.Ibrahim C. Haznedaroglu 1. Sok. Sun apt. No:3/2 TR-06490 Bahcelievler Ankara-Turkey. Tel: + 90-312-2213550, Fax: + 90-312-4460843)


Source

Nagoya Medical Journal 43(2):65-72, 1999


Abstract

The precise physiological function of protein Z, which is a vitamin K-dependent plasma protein, is still unknown. It is observed that thrombin associates with phospholipid surface in the presence of bovine protein Z. The aim of this study is to determine circulating protein Z in different types of pathological megakaryocytopoiesis. Accordingly, in this cross-sectional study, the plasma concentrations of protein Z in patients with reactive thrombocytosis (RT) and primary thrombocythemia (PT) and in patients with idiopathic thrombocytopenic purpura (ITP) were investigated. We found normal protein Z levels in PT and RT. However, protein Z level was found to be significantly elevated in patients with ITP (p<0.001). The increment of the protein Z concentration seems to be reactive to the increased bleeding tendency of ITP.

---