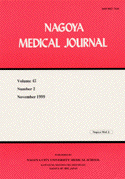 INDEX
Key words

mDelta1, Delta homolouge, Notch, mouse, differentiation


Title

Inhibition of myogenic differentiation by Delta-Notch signaling pathway


Authors

TADASHI MATSUBAYASHI, KEIGO MIZUTANI, MAKOTO YAZAKI, YOSHIRO WADA, TOSHITADA TAKAHASHI, AND YUICHI OBATA


Institution

Laboratory of Immunology, Aichi Cancer Center Research Institute, Chikusa-ku Nagoya 464-8681, Japan. (Address of Correspondence: Tadashi Matsubayashi, Department of Pediatrics, Seirei Hamamatsu General Hospital, 2-12-12 Sumiyoshi, Hamamatsu 430-8558, Japan.)


Source

Nagoya Medical Journal 43(2):35-51, 1999


Abstract

The Delta/Serrate-Notch pathway mediates the signals of cell to cell communication during development in order to determine the fate of cells with equal potentials. However, the roles of Delta in mammalian development have not been fully understood. To delineate the functions of the mammalian Delta, we isolated a full-length cDNA of a mouse Delta homologue, mDelta1, and transfected it into L cells using a eukaryotic expression vector. After confirming the expression of mDelta1 in transfected L cells by Northern blot analysis, we test whether Delta had any effects on the differentiation of mammalian cells by coculturing C2C12 myogenic cells, which are known to differentiate into myocytes after serum starvation, on the mDelta1 transfected L cells. When cultured on sense mDelta1 transfectants, C2C12 remained undifferentiated even after the induction of differentiation. On the other hand, those on anti-sense mDelta1 transfectants displayed characteristic morphological changes of myocyte differentiation. These results showed that mDelta1 has an activity of regulating cellular differentiation.

---