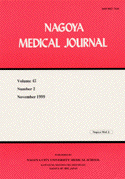 INDEX
Key words

Chronic renal failure, hearing loss, hemodialysis, peritoneal dialysis, BAER


Title

THE COMPARISON OF DIALYSIS TYPES' EFFECTS ON HEARING ACUITY AND BAER FINDINGS IN PATIENTS WITH CHRONIC RENAL FAILURE


Authors

Sebahattin CUEOGLU, Ustun OSMA, Zafer ALKAYA, Yasin SARI, Faruk MERIC, Ismail TOPCU, M.Emin YILMAZ


Institution

Dicle University, School of Medicine, Department of Otorhinolaryngology (Corresponding Address: Yrd. Doc Dr. Sebahattin CUEOGLU Dicle Un.Tip Fak. KBB Anabilim Dalli 21280, Diyarbakir-TURKEY)

Source

Nagoya Medical Journal 43(2):27-33, 1999


Abstract

In this study, the origin of hearing loss in patients with chronic renal failure (CRF) and the effect of dialysis type on hearing loss due to CRF was investigated. For these purposes, 40 patients with CRF ( 20 in hemodialysis and 20 in peritoneal dialysis program) were examined for hearing acuity by pure-tone audiometry (PTA), Threshold tone decay (TTD) test and Brainstem auditory evoked response (BAER). The hearing loss (13 cochlear, 10 retrocochlear in TTD test), was found in 57.5 % of patients. BAER findings showed that III., V. absolute latencies and I-III., III-V interpeak latencies were significantly longer in hemodialysis group than control group. No statistical significance was found between hemodialysis and peritoneal dialysis groups in audiological and BAER findings. Significant changes were not also observed before and after hemodialysis. It is concluded that both cochlea and retrocochlear region are susceptible to the effect of uremia. The type of dialysis has not affected the degree of hearing loss in CRF patients.
---